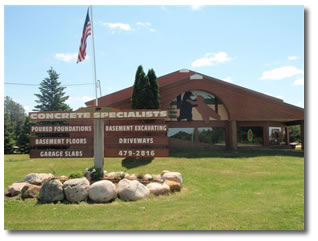 Serving the area since 1975, Concrete Specialists & Sons, a family owned business, specializes in concrete poured walls for new construction and additions; flatwork from concrete sidewalks & patios to concrete driveways; concrete slabs for garages, buildings and basement floors; colored concrete & stamped as well. Our brother company, Superior Excavating, is here to take care of your excavating needs, from clearing lots, demo projects, to putting in driveways, digging/backfilling, as well as landscaping. We offer complete packages that include septics & wells too. We are licensed in Wisconsin & Michigan and pride ourselves in quality workmanship and customer satisfaction. Call us today for a consultation.



Why Choose Us?



There are a number of reasons why you should choose Concrete Specialists & Sons, Inc. for your next concrete, excavating, septic, or well related project.

Experience

We have a long standing reputation for providing high quality and dependable services to our customers and strive to make your project as enjoyable and successful as possible. In fact, we've been around the longest when compared to other companies so we know exactly what it takes to make you, the customer, happy. Good old fashioned hard working values, extensive knowledge and experience, and a true desire to succeed in everything we do is what helps us deliver top-notch results with each and every project that we take on.

Quality & Customer Service

We truly believe in providing a high quality product while maintaining an extremely positive customer service experience. From start to finish, you can expect nothing but the best from us with regard to our professionalism, the care we take with your property, the cleanliness of the site, and of course, the end result of the projects that we take on. While on the job, we'll make it a point to keep you in the loop so you know how the project is going and when you can expect it to be complete. We feel that it is important to maintain the best of communication with our customers in order to ensure a successful and enjoyable business relationship.